SPA L14 in Albufeira Praia dos Salgados
Covid-19 Measures at the Spa
Felicitás Spa L14 will be operating with some limitations in its services.

SPA CIRCUIT
- Maximum capacity of 4 people simultaneously.
- Reservation is required at reception.
- Maximum usage time per person of 1h30.
- Free access to the spa circuit (sauna, jacuzzi and Turkish bath) when purchasing a massage or treatment, subject to availability and prior reservation.

GYM
- No reservation required. - Maximum limit of 4 people at the gym. - Free access for guests staying at Salgados Dunas Suites and Salgados Vila das Lagoas.
- Cost of €5,00 per day/person for property owners in Salgados Vila das Lagoas.

MASSAGES
- Some massages and aesthetics treatments will be available. See the list of treatments.
- It is necessary to book the massage in advance.
- The client will have to change inside the massage cabinet.
- During the massage, the use of a mask is mandatory.

PROHIBITED ACCESS
- Changing rooms (showering is not allowed / changing clothes is not allowed / keeping belongings in lockers is not allowed).
- Jacuzzi, Turkish bath and Sauna.


Spa L14 is a space dedicated to your well-being. With natural light and a panoramic view, it is designed to assure peace and relaxation. The Water Circuit offers the benefits of the Sauna, Turkish Bath, Jacuzzi, Contrast Showers and Relaxation Zones. Then guests can pass through one of the 6 treatment rooms (one for couples), for special care of the body and soul. Examples such as anti-stress massage or hot stones, exfoliation, mother and daughter or father and son massage or one of the 5 NAU signature treatments. This is a space for everyone, to feel good about oneself, for two or with the family, to come out whole.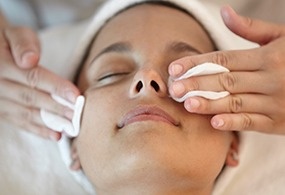 Spa Promotion | August
Personalized Facial (50 min)

To embrace your skin perfect harmony, we create a treatment to adjust to your needs. Leaving your skin hydrated, balanced and uniform.


€60before:€75
See more
Spa Promotion | August
Aromatherapy Massage (50 min)

Aromatherapy massage with citrus and fresh aromas, providing energy and vitality necessary to relax the mind and body.


€70before:€85
See more